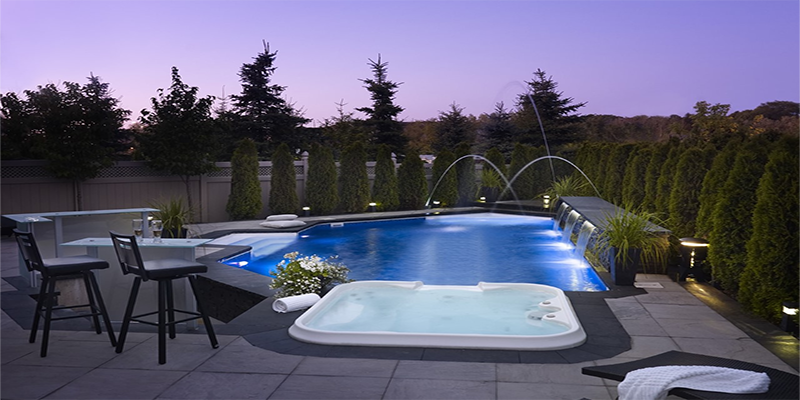 If you want to enhance your outdoor space, adding a water feature to your pool is a great start. Ontario offers some of the most stunning natural views in the country. You may not be able to put them all in your backyard, but you can certainly capture some of that beauty in your pool water features.
At Natural Landscape Group, we work together with homeowners to bring your pool and landscaping designs to life. Want to add a water feature to an existing pool, but not sure where to start? Check out our top 5 swimming pool water features ideas.
1. Rain Curtain Swimming Pool Water Features Ideas
A rain curtain provides just a hint of waterfall fun, with an extra dose of drama. For home or business owners hoping to create a romantic oasis in the backyard, a rain curtain amps up the aesthetic and ambiance in your pool.
This pool water feature is created by running water over a pergola-like structure. The structure and water are strategically designed so that the liquid does not fall in a sheet or waterfall form, but in a trickle of droplets, like natural rain.
2. Spill-Over Pool Water Features
For a built-in water feature sure to entertain, a spill-over pool is becoming increasingly popular. This design implements a spa or hot tub section which spills over into your pool. The result is a relaxing and impressive fountain feature in your inground pool.
To amp up the effect further, add coloured inset lighting just behind the spill-over, so the water catches the light on its way down. Your night swims will never be the same.
Summer is almost here. Want to enhance your pool this season? At Natural Landscape Group, our team can help. Reach out to us today!
3. Pool Gushers Built-in Water Features
What do you get when you combine a man-made geyser with a luxury swimming pool? A built-in water feature with flare. Pool gushers force water and air up through deliberately placed openings.
Also known as bubblers, pool gushers not only provide a visual centerpiece or great edging feature for your pool, they also add to the overall ambiance. The sound created by gushers offers calming rain sounds without the added precipitation.
4. Infinity-Edge Types of Water Features
An infinity-edge creates the illusion that the pool has no final boundary, but rather could carry you over the edge. This feature is created by adding a water catch addition just below the infinity edge to catch the spill-over and pump it back into the pool.
Add mystery, elegance, and allure with a Natural Landscape Group infinity-edge today.
5. Misty Inground Pool Fountains and Waterfalls
When adding a water feature to your pool, swimming pool designs with waterfalls always make the top of our list. Waterfalls can be added at any level of your pool, or installed over a pergola or other addition to add depth.
Inground pool fountains and waterfalls bring a much-needed nature note into an otherwise man-made section of your property. For romance, aesthetics, and an increased sale value, it's the perfect water feature option.
Contact Natural Landscape Group for More Pool Water Features
Natural Landscape Group is proudly Canadian, serving clients across Ontario. We specialize in inground pool fountains and waterfalls, among various other types of water features.
Are you looking for ways to enhance the look of your backyard oasis? Adding built-in water features to your pool may be a great option. Contact Natural Landscape Group today to learn more!
Sources:
https://www.thespruce.com/swimming-pool-water-features-4160830