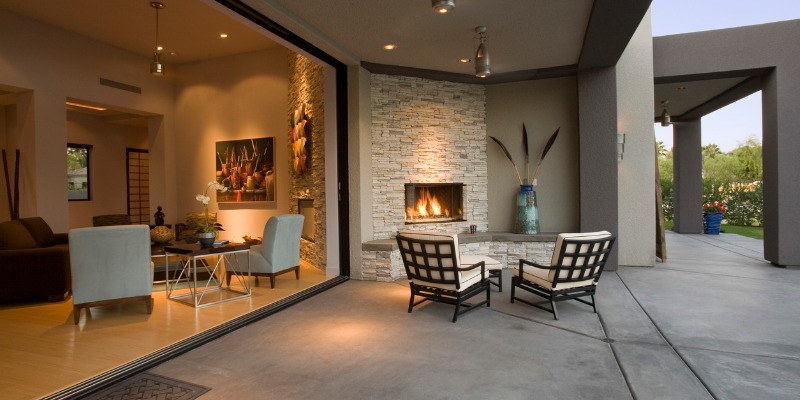 Why not choose an outdoor fire feature that you can use year-round? Summer evenings are made better with some roasted marshmallows, of course. And, if your fireplace is warm enough you can use it during winter evenings too. How do you choose the right fire feature, and adjust it for winter use? Here are the best outdoor fire features for outdoor use.
Outdoor Fireplaces
Fireplaces aren't just for indoors. You can get an outdoor fireplace that extends your living space outside even in the winter. These fireplaces should be gas-powered or wood-burning, so that they deliver the heat you need to stay warm in the winter. You'll also want to make sure you have enough wood on hand to power the fireplace through the winter, if that's the route you've chosen.
Also, outdoor fireplaces can be part of a living-room-like space, with a few walls and/or a ceiling. This can help define the space and protect it from wind, which makes it more comfortable in the winter. Add blankets and pillows, and you have a great winter hangout spot.
Outdoor Fire Pits
Firepits can be wood-burning or gas burning. Either is a good option to generate enough heat for winter use. Fire pits can also be sheltered from the wind by the side of your home, or a landscaping feature. However, they are often for less-formal spaces than outdoor fireplaces.
Still, large, ornate fireplaces with seating clustered closely can be a great spot to relax during the winter and even watch the snowfall. There is often no protective glass between the flames and you, so be careful with blankets and other fabrics, and always have some water on hand in case of emergencies.
If you'd learn more about outdoor fire pit, please contact us today!
Outdoor Fire Tables