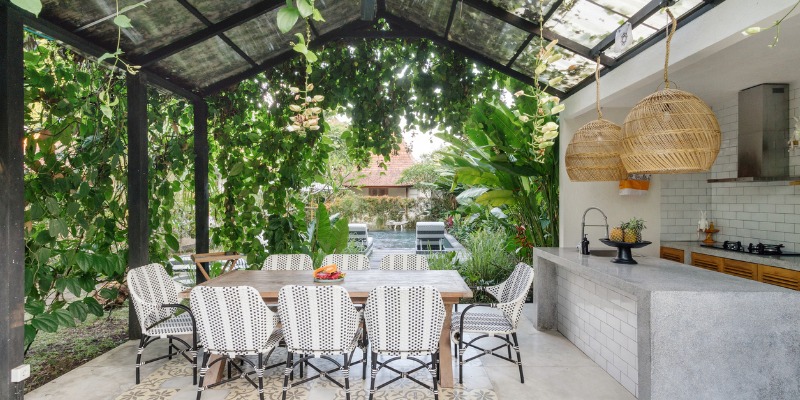 Outdoor entertaining changed forever with the outdoor kitchen. This space has become wildly popular over the last few years and clever designers keep adding new features and styles that can make it an even more functional and beautiful space. We've been impressed with the outdoor kitchen trends we've seen making waves in 2021 and we'd like to share them with you so that you can add them to your space or consider them in your design.
Cabinetry
No kitchen is complete without cabinetry, and that includes outdoor kitchens. You can get cabinets that are weather-resistant and can safely store anything you need when you're cooking outside, from cutlery to cups.
Stainless steel is one great option for weather-resistant cabinets. The material is frequently used in commercial kitchens because it is durable and easy to clean. If you don't like the look of the metal, you can get it powder-coated to look like wood, including a realistic grain pattern.
Make it a Bar
You can upgrade your outdoor kitchen to an outdoor bar with the right appliances. Here are some must-have bar items we're seeing in outdoor kitchens:
Ice makers
Kegerators
Dedicated wine refrigerator
Small or drawer refrigerators
Taps
Your bar may also need other items for utility, such as a deep sink, drawers for your drink makers, pull-out trash bins, and bar stools.
Cook, Bake, and Smoke
There's no reason to limit yourself to grilling in your outdoor kitchen. You can get great must-have appliances to add more variety to your cooking options. Here are some of our favourites:
Pizza ovens
Smokers
Small ovens
Small stovetops
Griddles
Don't forget that you can add storage space for your other cooking staples, like waffle irons, blenders, toaster ovens, and more. Outdoor kitchens can be as delightful for breakfast the morning after a party as they are for the party itself.
Want to create your dream outdoor kitchen? With our experts at Natural Landscape Group, outdoor living projects have never been easier. To learn more, contact us today.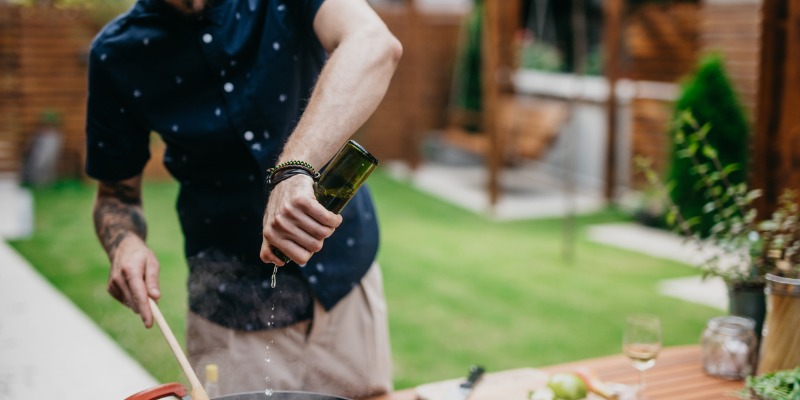 The Right Grill
For many, the best part of the outdoor kitchen is the grill. There's no need to settle in this department. Manufacturers are creating more and more capable grills, with all of the additional features that you want when you have a whole outdoor kitchen at your disposal. Here are some of the extra features you can get in your grill:
Warming racks
Multiple racks
Rotisserie
Griddles
Side burners
Multiple fuel types
Smoker boxes

Make Your Dream Kitchen

Head to our gallery to take a look at some of the other great features you can include in your outdoor kitchen.
Are you thinking about adding to your outdoor kitchen? Perhaps you want to design your dream outdoor kitchen from scratch? Either way, let us help! Contact our team at Natural Landscape Group today for all of your landscaping needs.
Sources:
https://www.thespruceeats.com/how-to-buy-a-gas-grill-331561
https://www.diynetwork.com/how-to/outdoors/outdoor-spaces/outdoor-kitchen-trends